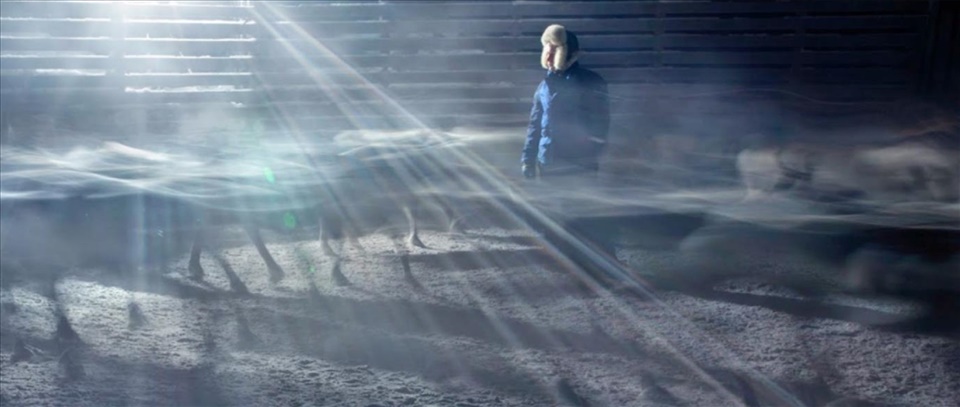 Sámi bojá - Sami boy
Author: Tina Andersson, Norgesfilm AS
About the filmmaker
Elle Sofe Sara (1984) is a choreographer and director from Kautokeino, Norway. She is known for her unique style within film and dance. Her films can be seen as comments on various aspects of Sami culture and tradition.
She started making films while still in middle school, where she discovered that the medium of film was a powerful and effective way to tell a story. The way images, sound and movement help giving the audience a good experience, fascinated her.
Elle Sofe continued making films and eventually it became her profession. She graduated with a master's degree in choreography from Oslo National Academy of the Arts in 2010. She also studied Dance at the Laban School in London.
What is so fascinating about film is that you can get so close to someone, and see places, cultures and people in a completely different way than you can in real life (Elle Sofe Sara, 2020).
Filmography
Giitu giitu/ Thank you Lord (2019)
Ribadit/ Pulling in the Belt (2019)
Sámi Bojá (2015)
Juoigangiehta/ The Yoiking Hand (2011)
Biegga savkala duoddara duohken lea soames / The wind whispers there is someone behind the tundra (2007)
Elle Sofe Saras favourite films
Parasite (2019)
The Body Remembers When The World Broke Open (2019)
House of the Flying Daggers (2004)
Spirited Away (2001)
Dancer in the Dark (2000)
Background
Sámi Bojá is part of Seven Sámi Stories, which consists of seven films from Sápmi. The project was supported and disseminated by The International Sami Film Institute in 2015.
Seven directors took part in the project. They each shot a film in Kautokeino, in a span of several months.
Sámi Bojá is Elle Sofe Sara's contribution to Seven Sámi Stories. It is also her first fiction film.
Watch the film on Sapmifilm.
TASKS
A. Mental health
The film Sámi Bojá shows the mental struggle of Mikkel, a young reindeer herder. It is a struggle that does not easily appear on the outside. We follow Mikkel's experience of the world. He has a tough shell like a sámi bojá should have, but inside there is chaos.
What is the difference between physical and mental health?
What kind of help can one get to control mental illness?
B. Discuss these statements (Do you agree or disagree? Try to elaborate on your answer):
Mikkel should not show his weakness, but try to appear strong.
Men are both mentally and physically stronger than women.
Young men find it easy to talk to others about their mental health problems.
C. Cinematic techniques
Cinematic techniques can be summed up as the style of the film. This is about how the filmmaker has chosen to use music, light, sound, editing and images to tell the story.
The use of music in film is a good exemple. Films with serious or frightening themes more often use dark images and a different type of music than what you find in comedies or dramas. Just think of how the use of scary music in horror films can create suspense.
Describe the way music, movement and light/ darkness are used in Sámi Bojá.
How do you think the use of these cinematic techniques affects your experience of the film?
D. Characters
A character is a person, or another being, in a film. The traits of the character become visible through choices, actions and through the way the character reacts when encountering problems.
We can distinguish between the character's outer and inner character traits. Outer traits are about what we can observe from watching the film. Such as what the person looks like, the hairstyle and clothing etc. Inner character traits are expressed through what the character does and says. This tells us something about the characters personality and goals. We often have to analyse the character's behavior in order to say something about the inner character traits.
Describe Mikkel's inner and outer character traits.
What impression do you get of Mikkel?
How do you think Mikkel's life will turn out?
If you had a chance to ask Mikkel a question, what would it be?
We also meet reindeers and a dog in the film. What do you think is the most challenging aspect of working with animals on a film set?
E. The film experience
Write a short text about:
how you liked the film.
what emotions the film experience gave you.
what you learned from watching the film.