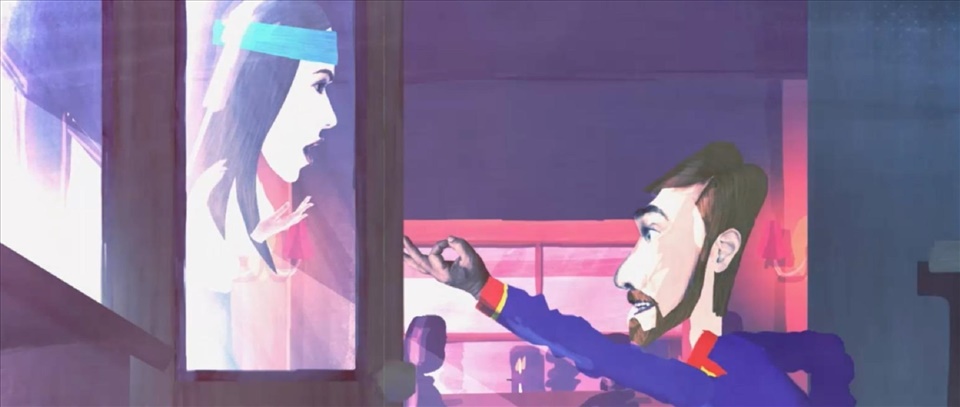 Bihttoš - Rebel
Author: Tina Andersson, Norgesfilm AS (CC BY-SA), ndla.no
About the filmmaker
Elle-Máijá Tailfeathers is both a filmmaker and an actor. She's half blackfoot and half Sámi, a background that is often reflected in her films.
She began her film career in 2011 with the experimental short film Bloodland. The film was made as a protest against oil companies, who were going to start oil drilling in the blackfoot peoples lands. After this movie, she has made a number of other films in several different genres such as fiction, documentary, mockumentary and music video.
Sami and blackfoot
The father of Tailfeathers is Norwegian Sámi, while the mother is blackfoot from Kainai First Nation. The Kainai tribe is also known as "the Blood Tribe" or "Kainaiwa". They are part of the Blackfoot Nation which consists of three tribes: Siksikáwa, Kainai og Piegans. The Blackfoot people live in Alberta, Canada, they originally subsisted on buffalo hunting and are known for their ceremonial and sacred sun dance.
Indigenous issues
Tailfeathers' films are often about societal problems and injustices related to indigenous issues. The films have been screened at festivals in multiple locations around the world, such as the Berlin International Film Festival, Vancouver International Film Festival, imagineNATIVE Film and Media Arts Festival, Seattle International Film Festival, and Tromsø Internasjonale Filmfestival (TIFF).

TASKS

A. Stories about indigenous people
The film Rabbit-Proof Fence (2002), by the Australian director Philip Noyce, is about three Aboriginal girls in Australia who are abducted from their family in the 1930s. The girls are taken by Australian authorities and placed in an institution to learn how to become "real Australians". This was something that happened to countless Aboriginal children until the 1970s. The film is based on the book Follow the rabbit-proof fence by Doris Pilkington Garimara.
Rabbit-Proof Fence, together with films such as Whale Rider, Once We Were Warriors and Sami Blood, are examples of films that in different ways, and with different perspectives, depict how indigenous people live and how they have fought to retain their language, their land and their traditional way of life.
Choose an indigenous population that you want to learn more about.
How do they live?
What battles do they face?
Which movies and books are based on them, and what are they about?
Are there anyone within or from outside the indigenous population who have made movies/books?
How do you think this indigenous population will live in 30 years?
B. Analyze
Author: Tina Andersson, Ragna Marie Tørdal, Sissel Stokkedal (CC BY-SA), ndla.no
The documentary by Elle-Máijá Tailfeathers uses various techniques such as animation, old photographs and reconstructions. The film is about the filmmaker's own family and describes what it is like growing up with parents who belong to two different indigenous groups; Sámi and blackfoot.
First, watch the film. Then use this template when working with the written analysis.
General advice
This template is an example of how you can structure a written film analysis. Usually, not all of these points are relevant. There may be certain techniques in a film that are particularly important. Then you should elaborate on these and leave out the rest.
Some points can be merged and seen in context. For example, is there a connection between the use of image frames and dramaturgy? Is the lighting and staging related to a style or genre, such as film noir?
In general, the analysis should have an introduction, a main part and an end. Each part should consist of shorter sections with subtitles illustrating the points in the analysis.
Introduction (max. 200 words)
Synopsis (max. 200 words)
Point of view and narrative style (max. 100 words)
Narrative structure (max. 100 words)
Dramaturgy (max. 200 words)
The characters in the movie (max. 300 words)
Cinematography (max. 200 words)
The staging (max. 200 words)
Use of light and colors (max. 100 words)
Cutting rhythm (max. 200 words)
Sound (max. 200 words)
Film history and social context (ca. 200 words)
Summary (ca. 200 words)